So, for the actual 'day of' my 40th birthday, I could not imagine going anywhere other than the restaurant that set the standard for me at the peak of my Gastronautic traveling apex, five years ago from today. It was my first hard core-full blown, no holds barred Michelin tour de force through France and San Sebastian back in 2013. At the end of it all, we had the unanimous feeling that Troisgros was the best meal of our trip. Though this restaurant has had 3 stars since the late 60's, which in itself is mind-boggling, it arguably did not receive as much media attention until a couple of years ago when Chef's Table France came out on Netflix. It was upon watching the Troisgros episode that I learned about their second location being built in Ouches. I knew upon seeing this episode that this was where I was going to spend my 40th birthday. Hence, two years later, this fleeting seed of an idea became a reality.
This snippet of this episode describes their philosophy, history, and the direction they are headed in a nutshell.
I should pause here for a moment and make the linkages. When you watch this episode it explores the psychological hurdles that exist in carrying out a legacy, and the metaphysical metamorphosis one goes through in order to come into one's own. I was fascinated to hear about how Michel Troisgros himself went through such a journey with the death of his uncle, who ran the restaurant, and his entry into the family business when he himself turned 40 years old. Coming here on my 40th birthday was also a landmark for me, as since I was a child, I was the quintessential 'diamond in the rough' character from the 'least expected to succeed' category.
Being the firstborn of my father who was the youngest son of five that always fell on economic hardship, I would sit in class, every September on 'back to school day', and hear all the rich kids talk about "what they did over the summer" with their families in Europe. The concept of having enough money to 'eat out', let alone travel, was totally inconceivable to me. I distinctly remember one of these occasions where something just clicked that drove me to succeed in life despite any obstacle. I then envisioned myself having the dream European vacation once I finally achieved financial independence. I say this, not for the superficial vanity of being a victim to capitalism or consumerism, but rather to highlight the concept of delay of gratification, setting and achieving long-term goals, perseverance, tenacity, and grit.
The beauty of envisioning something as a child and then actually having it materialize in real life, and what that does for self-esteem and life-satisfaction is beyond any financial reward. For this reason, the story of the chef, his family history, and this restaurant perfectly aligned with the symbolism of realizing all my own dreams on my 40th birthday. It was my version of making peace with the shadow of my past.
Wow, what a mouthful of psychological self-congratulatory mumbo-jumbo, let's get on with the trip.
The first stop on the way to Roanne was to one of the wineries the restaurant recommended nearby, Domaine Serol.
What a heavenly day.
Here was the view from inside the tasting room.
We loved the floor to ceiling window.
The wines were biodynamic. They were good but way too young. We brought back a couple of rosés which did not last very long in our wine fridge.
I made a point to stop at Francois Pralus' chocolate shop. I was researching gastronomic destinations in the area and this was right up there next to Trois Gros. He won the award for the best pastry chef in Paris and has an obsessive interest in single origin chocolate from cacao farms that he owns in various parts of Africa.
https://www.chocolats-pralus.com/en/our-chocolate.html
Perfect place to stock up on gifts for everyone back home. One-stop shopping.
We loved this stained glass window. We were lucky enough to get the backstory on this when we ended up meeting the chef himself at Troisgros during dinner later that night. Apparently, this window was in his father's bakery growing up and he had it installed here to remind him of this.
He is famous for this candied praline cake, where the candied praline turns pink with the sugar from some chemical reaction.
These are the cutest little tins we transported these cakes back in.
Ooouu, look at that gold-plated cube.
Oh my, like an eclair cake or a giant chocolate chip ice cream sandwich.
Now, this is a pastry shop. You cannot find this just anywhere. The level of craftsmanship in making all of this looks like a lot of painstaking work.
I had to have a pre-dinner snack to go.
This was one of the funkiest, most ultra-modern, and sleek hotel rooms we had ever stayed in. Like we woke up in a DWELL magazine/Roche Bobois furniture ad. I loved the super futuristic furniture, abstract eclectic color scheme, modernist French sensibility, and overall detail to design here. They managed to weave this into the rustic French country barn facade seamlessly. Where L'assiette Champegnoise was 'trying too hard' and just 'off', Troisgros got it 'just right'. A very chic place.
This was the common area kitchen for late night snacks.
You had your choice of living room in a common area where you could eat breakfast.
It was like a hostel, but for rich fucks.
This room was wickedly sexy. Exactly to my taste. Dark, sultry, wooded, womb-like.
Beautiful velvet burgundy sofas, decor was very nicely done.
The gentle breeze and tranquility here were unreal. It was like you owned the whole place. Literally, on a Wednesday night, we did. We only saw very few other guests.
Below was an ancient part of an old farmhouse they turned into a kayak storage room with swamp boots. I regret not exploring the area before the sun went down rather than beaching ourselves like whales by the pool.
Look at that door. I lust after shit like this. Metal and wood.
There was even a room above this area to lounge in, with the summer breeze coming through the lace drapes flapping in the air.
Catching the last rays of the setting sun by the pool.
Let the marathon food binge begin.
Some amuse bouche.
We had a few aperitifs of rosés in one of the living rooms where we chose our menu before heading to the main dining room.
This is the view from inside the restaurant.
More stunning floor to ceiling glass. As if you were sitting outside having dinner in the forest but without the gnats in your face. Similar Danish style chairs with Platner style mid-century tables as the original location.
Here we were 5 years ago giddy in anticipation of our first 3-star meal in France.
The first course at the Ouches location was called "Red to the lips" which was some amalgamation of pigeon breast served rare, with a fruit cocktail consisting of beetroot, wild strawberries, and rhubarb, which is one of their traditional ingredients that I remembered from the first Troisgrois dinner in Roanne.
Not to confuse everyone, but I am going to take the artistic freedom to add archived retrospective photos from our first experience at the original Troisgros location in Roanne as we go along here to compare and contrast.
This was such a petri dish of diversity of the utmost manifestation of seasonal freshness.
I found a kick-ass '83 Echezeaux for under $300 Euros, that is unheard of. I got so tipsy that upon getting tired of waiting for them to pour me more, I tried to do it myself out of this contraption and spilled half the wine all over the table. It was one of the most embarrassing faux pax moments in my Michelin dining career.
I could just sniff this for days. I was in poopy wine heaven.
I need to create a room in my dream house one day that looks like this. Like the Phillip Johnson Glass House.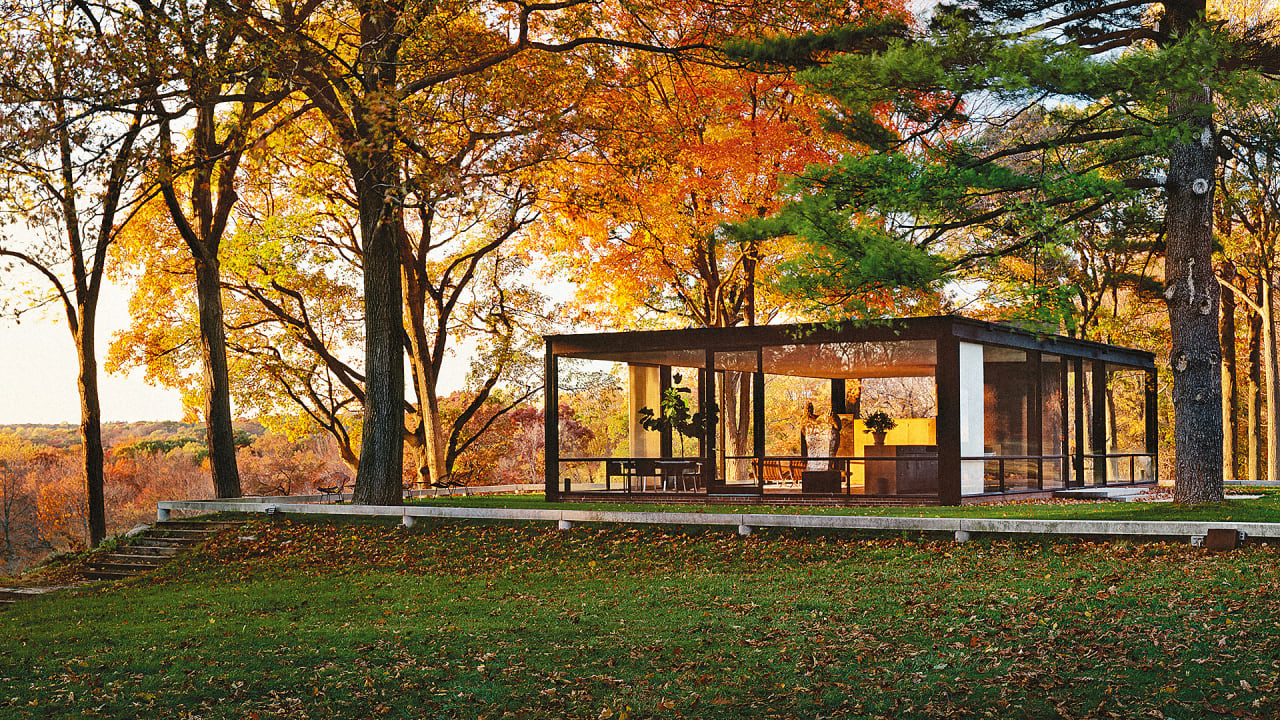 I'm such a mid-century modern fanatic, this was like ultimate dopamine toxicity for me. All my senses were being barraged.
Just slowly watching the sunset on this long summer day, it was well into 830p by this time and the sun was barely setting.
I would have to say that this is one of the greatest pluses of traveling to Europe in the summer months, notwithstanding the heat, the long days give you so much more freedom to do more things during the day.
Here is one of their trademark dishes. Their Mussels and Girolles mushrooms with a veil of milk, as they like to call it. If you watch the Netflix episode, it shows how this dish became the signature of the young Michel Troisgros, which helped him step out of the shadow of the "Salmon Sorrel" that his father and uncle made world-renown.
This is the original dish that inspired this entire concept, it was a milk ravioli with liquid black truffle inside that oozes out after it is sliced open, C-section style, on the table in front of you. He was inspired by some abstract art he saw.
Here is the same dish 5 years ago at the original location on their 45th Anniversary. I was mystified when I first saw this and thought to myself, I never knew the French made ravioli?
The next dish I think was some cabbage and toasted escargot that was deep fried with tamarind, and made into a pan-fried gyoza almost. Reminded me of Din Tai's pan-fried gyoza. I liked how clever they were to recreate the gyoza but make the stuffing from a quintessentially French delicacy such as escargot.
Next was their fish, which was their monkfish and spicy sauce. Again, their trademark sauces were not only pretty to look at but so savory and thick, yet light at the same time. It's very hard to explain, like a perfect balance.
Here is where I think the argument comes in as to why you pay a premium to eat somewhere like this. Think about how many ten's of thousands of attempts have been made to perfect this one sauce. I love Malcolm Gladwell's concept of becoming an expert at something after 10,000 hours of doing it.
https://www.bbc.com/news/magazine-26384712
The next dish was their crayfish in bitterness. I think it was covered in roasted caramelized onion, again, with yet another exquisite sauce.
This pink sauce reminded me of this turbot dish from the original location 5 years ago. I had never seen such a pretty dish up until that point. Look at the colors, strawberry milk, candied onion bulbs.
Here was another dish that we had at the original location that reminded me of this. Their crayfish with white truffle shavings.
I must say, I really liked the little teal vests all the waiters were wearing, such a perfect hue of green.
Here are more archived pics of our first time here at the original location.
Amazing how poorly pixelated phone cameras were only 5 years ago.
I think this was Cep mushroom atop oysters, again from original location 5 years ago.
We were then given a kitchen tour before the meat course.
Here was our first glimpse at Chef Elkhaldy. He was going to be a guest chef the day after our dinner. On this night he was working alongside Michel and his son, planning everything out for the next day. He was a guest at the hotel and we ended up eating breakfast with him and his family the next day and hearing his story.
I had heard of special dinners on NPR where they have pop-ups with Syrian refugee chefs cooking everything and having the proceeds go to refugee-related funds. This was the first time I had the pleasure of meeting an actual Syrian refugee. By the way, for those of you not in the know, Aleppo Syria, before it was destroyed, used to be the world's ultimate intersection of East meets West with regards to food, and probably like a Mecca (since we're talking about the middle east, let's use a middle eastern metaphor) for foodies.
Fascinating New York Times article on him.
Bring on the meat.
I believe this was the saddle of lamb. This has always been a weird little cut to me that ends up usually being too dry, or overshadowed in its taste by the sauce it is usually marinated in. I almost associate this cut with mutton as it tends to be on the tougher side. However, it was quite tender due to the sous vide preparation.
For the life of me, I cannot remember the side dishes here. Looks like potato and some organic greenery from their garden.
To be honest, the meat dish at the original location takes the cake as the best meat I've had at a Michelin establishment aside from Aragawa in Japan.
Damn, that it carnivore heaven, such a perfect specimen, look at the sauce, the marbling, the beans. It does not get better than this. Until of course, you get to the cheese.
Flashback to 5 years ago at the original location.
This cheese plate and selection here took the cake as compared to the new location, but not by much, maybe by one standard deviation.
Desert, on the other hand, was slightly better here at the Ouches location. Very Heston Blumenthal themed egg.
What a monster, kick-ass mille-feuille… Look at that expertly prepared light thin layer strawberry consomme underneath.
Look at those fresh picked wild strawberries. You don't see that very often.
Chocolate ribbon in a strawberry sauce for my birthday surprise.
I would have to say that the desserts at the original location were no pushover either. It was a tough call deciding which location's desserts were superior.
Again, the color contrasts on the plates were as pleasant to look at as they were to eat.
Here was the continuation of after-dinner snacks with an Armagnac and a cigar at the original location 5 years ago.
Mr. Pralus himself, whose pastry shop you saw earlier. He was having dinner with Michel Troisgros' wife and associates directly across from us. He was shocked that some random Americans recognized him in a crowd. The only reason I did was due to my research of his pastry shop and the image I uploaded earlier. Chef Michel even got jealous that we thought Francois was more of the star of the photo opp, so he ran to join in.
The night was not complete without a cigar outside.
Of course, there had to be some button popping action.
The view from the window the next day. Looked like one of those pamphlets of heaven that the Jehovah's Witnesses leave in your mailbox.
We met Chef Elkhaldy at breakfast with his family.
He told us about his difficult journey to Paris via Lebanon. Yet again another coming full circle moment for Erika and I. My father's family actually emigrated from Lebanon to Canada and then to California. Erika herself came here at age 17 from Mexico City.
I know people see these images of desperate hoards of refugees on the news and make assumptions about their ability to assimilate, etc, but I'd like to think that Erika and I did quite well in this domain. I hope to remind people that the second and third generations will be as American or European as the next person. We are both US citizens now, I'm a doctor and Erika founded a non-profit housing counseling agency. We are making society a better place.
Look at Rene Redzepi. We would not have the World's Best Restaurant four times over; Noma, if Rene's father did not emigrate from a Muslim country to Denmark. The entire restaurant industry in the USA would not exist without Mexicans doing all the grunt work behind the scenes. Don't be scared, cross-pollination is a good thing. It was very touching and almost karmic that our paths crossed at this dinner. We are now good Instagram friends.
We actually headed to Paris right after this dinner and chef Elkhaldy invited us to his house in Paris to cook for us. Passing this up was the biggest regret of my entire trip. I was too afraid to cancel dinner at Guy Savoy, which ultimately we were not even very impressed by. I wish we would have taken him up on his offer and some of his Kibbe Naye, which is my death bed meal.
https://www.instagram.com/p/BlgPHDLFFYu/?utm_source=ig_web_button_share_sheet
Fuck ya! Lube that raw meat up baby!
Here we are with Michel 5 years ago.
Here are the last glimpses of the new restaurant before we head to Paris.
Here is the entrance to the hotel and below is the most adorable cat video we saw upon leaving. These guys are just lounging.
Not until I sat down after several months had passed, let it all sink in, my 40th birthday, the apex of my childhood dreams, running into a Syrian refugee top chef, did I realize that this was beyond coincidence. It was nice to stop running around working my ass off and reflect a little to put my life into perspective.
What an amazing romantic location for a couple's getaway. Though the complete experience would still be to go to the original location first, then come here. It's basically a draw between the two, as even though one may overtake the other in one category or another, it all balances out in the end.